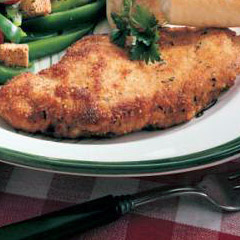 Parmesan Chicken
Prep Time: 15m
Ready in: 15m
Yield: 4 servings
Ingredients
4 (4 ounce) boneless, skinless chicken breast halves
1/2 cup seasoned bread crumbs
1/4 cup grated Parmesan cheese
1/2 teaspoon dried basil
1 egg
1 tablespoon butter or margarine
1 tablespoon vegetable oil
Directions
1. Flatten chicken to 1/4-in. thickness.
2. In a shallow bowl, combine bread crumbs, Parmesan cheese and basil.
3. In another bowl, beat the egg. Dip chicken into egg, then coat with crumb mixture.
4. In a large skillet, brown chicken in butter and oil over medium heat for 3-5 minutes on each side or until juices run clear.